Meer details
Match criteria
Hr Payroll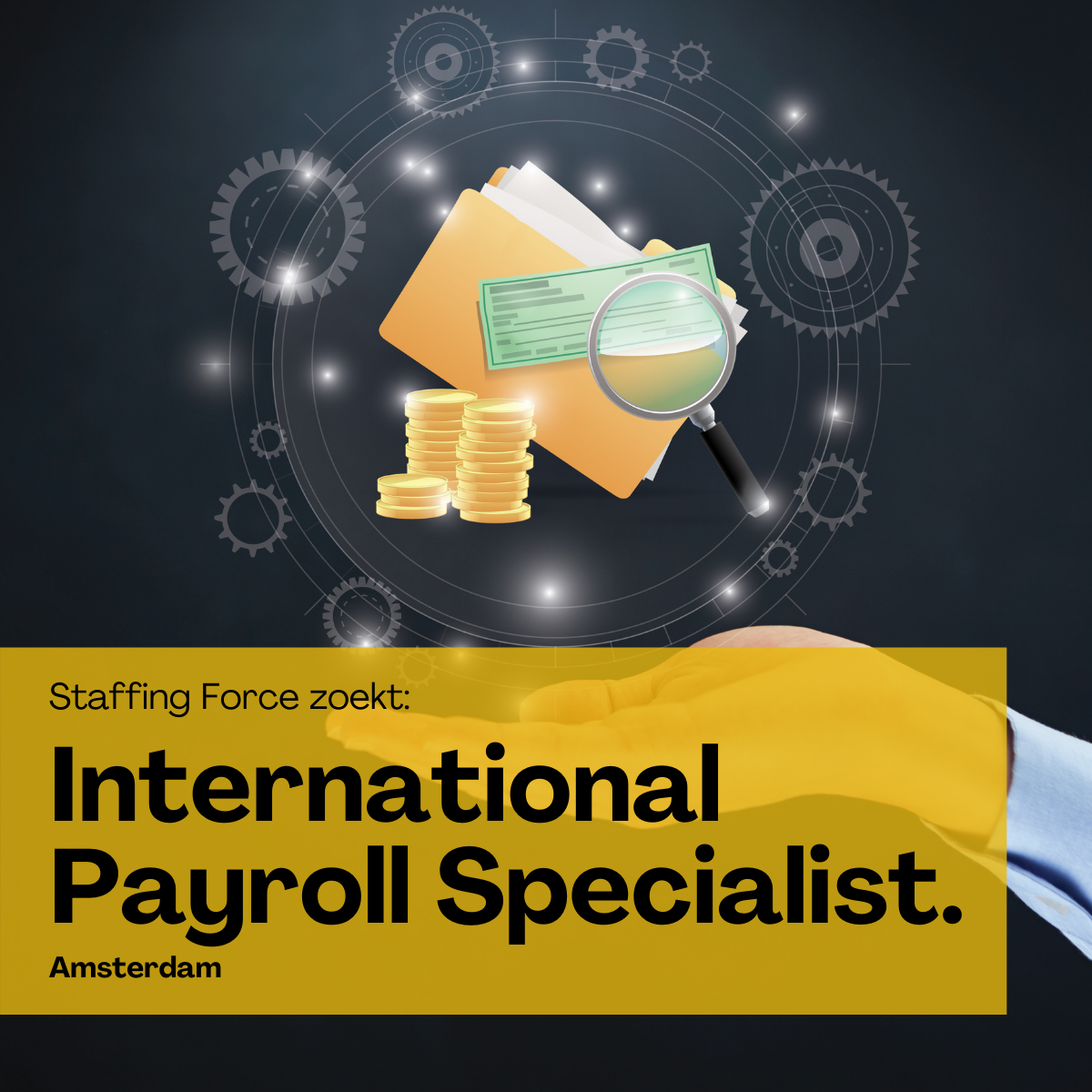 Bedrijfsprofiel
We are looking for an HR Administrator for our client who is located in Amsterdam, to support their Human Resources department. Your main administrative duties include maintaining personnel records, managing HR documents and updating internal databases.
The payroll Coordinator review and process each country's monthly compensation schedule and ensure each staff member is paid accurately. In this position, you will work closely with HR and other financial personnel, external payroll companies, employment taxes and pension accounts within each of our countries of operation in Europe.
Functie omschrijving
Your responsibilities are:
Organize and maintain personnel records

Update internal databases (e.g. record sick or maternity leave)

Prepare HR documents

Support HR Manager

Liaise with external partners, like insurance vendors, and ensure

Answer employee's queries about HR-related issues

Arrange travel accommodations and process expense forms

Providing information and answering employee questions about payroll related

matters.

Managing electronic timekeeping systems or manually collecting and reviewing

timesheets.

Calculating payable hours, commissions, bonuses, tax withholdings, and

deductions.

Preparing and issuing earnings statements.
Key responsibilities
Administer paychecks, deduction summaries and earnings statements with external payroll companies for a staff of the different countries

Evaluate the accuracy of time sheets submitted every week and contact supervisors or individual employees when there is a discrepancy

Create new data files for new employees and submit hiring paperwork into the system to set up a payroll account

Enter information into the payroll system about employee taxes, exemptions, transfers, firings, and resignations as details change

Respond to any errors in payroll by reviewing past records and making any wage corrections or adjustments when necessary

Track employee absences through the payroll software and record details

Answer employee questions about payroll, leave amounts, tax forms and other

compensation issues when asked

Preparing financial reports for accounting

Preparing periodic payroll reports for review by management
Functie eisen
The job requirements are:
Proven work experience as an HR Administrator, HR assistant or relevant role

Excellent organizational skills, with an ability to prioritize important projects

Good verbal and written communication skills

Ability to communicate in English

Strong numerical aptitude and attention to detail

Excellent communication skills, both verbal and written

Associate degree or higher in business administration, finance or accounting

Three or more years' experience in a similar position

Proficiency in Microsoft Office Suite (Word, Excel, PowerPoint, Outlook)

Experience using payroll accounting software

Strong organizational skills and attention to detail

Ability to work well under pressure in a deadline-driven environment

In-depth knowledge of employment law and payroll taxes

Self-motivated and results driven

Knowledge and experience working with payroll systems and databases

Exceptional communication and interpersonal skills

Responsible, proactive and displays high energy and enthusiasm
Arbeidsvoorwaarden
What does our client offer you?
Amazing discounts

Positive and supportive team environment

Opportunity to learn and grow your career with an outstanding luxury athletic

brand.

A full time function

8% holiday pay

Salary 35 to 36.000 per year
Locatie
Amsterdam
Publicatie datum
12.07.2021
Contactpersoon